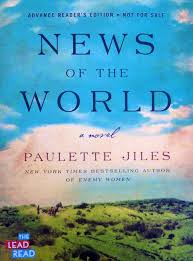 Book Club: June 13th
Book Club to discuss
News of the World
For June's Book Club, the host has selected Paulette Jiles' News of the World.
In the wake of the Civil War, Captain Jefferson Kyle Kidd travels through northern Texas, giving live readings from newspapers to paying audiences hungry for news of the world. In Wichita Falls, he is offered a $50 gold piece to deliver a young orphan to her relatives in San Antonio. Their 400-mile journey south through unsettled territory and unforgiving terrain proves difficult and at times dangerous. Johanna tries to escape at every opportunity, throws away her shoes, and refuses to act "civilized." Yet as the miles pass, the two lonely survivors tentatively begin to trust each other, forming a bond that marks the difference between life and death in this treacherous land. Arriving in San Antonio, the reunion is neither happy nor welcome. The captain must hand Johanna over to an aunt and uncle she does not remember -- strangers who regard her as an unwanted burden. A respectable man, Captain Kidd is faced with a terrible choice: abandon the girl to her fate or become -- in the eyes of the law -- a kidnapper himself.
The local Harvard Club book club, which has been in existence for ten years, normally meets on the second Wednesday of every month at 6:30 pm for a potluck dinner and to discuss a wide-ranging selection of books -- fiction, poetry, biography, history, etc. They always enjoy having other interested people attend and participate.

The Book Club will meet this month at 6:30 pm on Wednesday, June 13th in a private room at Il Fornaio, 400 Capitol Mall, Sacramento.
Please contact Jennifer Niemann for more information and to RSVP.