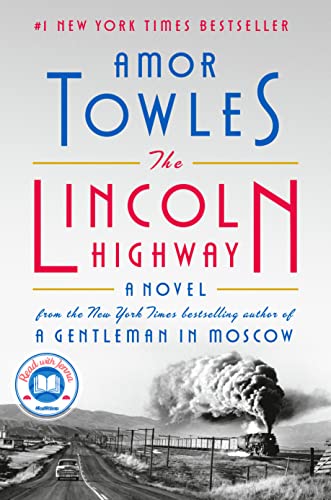 Book Club: March 9th
Book Club to discuss The Lincoln Highway by Amor Towles
A New York Times #1 Bestseller, and Chosen by Oprah Daily, Time, NPR, The Washington Post and Barack Obama as a Best Book of the Year

The book for March is The Lincoln Highway, a new Great American Road Novel that tails four boys — three 18-year-olds who met in a juvenile reformatory, plus a brainy 8-year-old — as they set out from Nebraska in June, 1954, in an old Studebaker in pursuit of a better future. If this book were set today, their constant detours and U-turns would send GPS into paroxysms of navigational recalculations. But hitch onto this delightful tour de force and you'll be pulled straight through to the end, helpless against the inventive exuberance of Towles' storytelling.
The Zoom meeting is scheduled for Wednesday, March 9th, at 4:30 pm, and participants are welcome to enjoy a beverage, alcoholic or not, during the meeting! Richard Williamson will be hosting the meeting. The meeting login details will be sent a day before the event. Please RSVP to Chris "C.J." Shim at chrisjshim@yahoo.com.