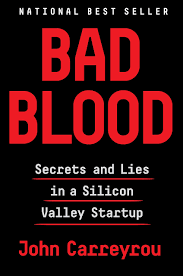 Book Club: November 14th
Book Club to discuss
Bad Blood: Secrets and Lies in a Silicon Valley Startup​
For November's Book Club, the host has selected this bestseller by John Carreyrou.
"Chilling…Reads like a West Coast version of All the President's Men." —The New York Times Book Review

The full inside story of the breathtaking rise and shocking collapse of Theranos, the multibillion-dollar biotech startup, by the prize-winning journalist who first broke the story and pursued it to the end, despite pressure from its charismatic CEO and threats by her lawyers.
The local Harvard Club book club, which has been in existence for ten years, normally meets on the second Wednesday of every month at 6:30 pm for a potluck dinner and to discuss a wide-ranging selection of books -- fiction, poetry, biography, history, etc. They always enjoy having other interested people attend and participate.

The Book Club will meet next at 6:30 pm on Wednesday, November 14th, in Granite Bay. Please bring a pot luck item.
Please contact Marilyn Edling for more information and to RSVP.