Come see the sandhill cranes - November 18th
Harvard Club plans tour to view spectacular winter visitors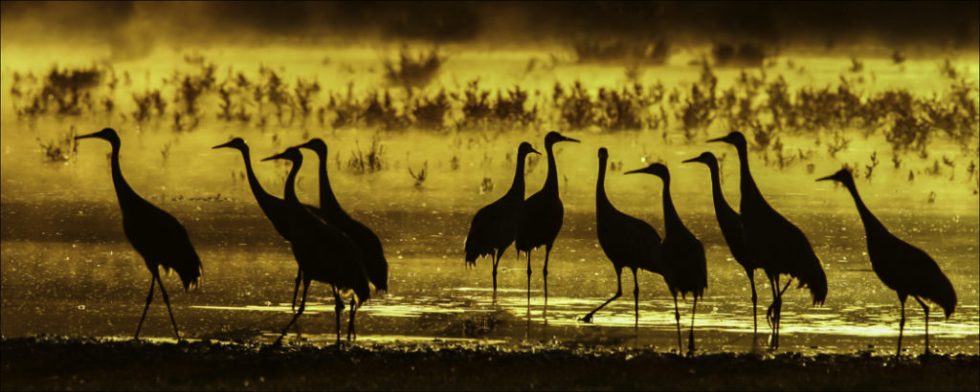 Please join the Harvard Club of Sacramento for an afternoon of spectacular birdwatching and photography on November 18, 2018, beginning at 1:30pm. The focus of the day will be watching the sandhill cranes at their wintering grounds in south Sacramento County. We encourage everyone to bring their cameras. Several Harvard Club members with experience in wildlife photography will be there and will be prepared to share their experiences and tips about how to photograph birds. Friends and family members are welcome.

We'll start by meeting outside the visitor center at the Cosumnes River Preserve, 13501 Franklin Boulevard, in Galt, between 1:00 and 1:30pm. To get there from Sacramento, go south on Interstate 5 until you reach Twin Cities Road, Exit 498. Get off, go east, and turn right (south) on Franklin Boulevard.

The visitor center is 1.8 miles away, on the left. Bring a lunch; we'll eat after introductions, and then we'll take a short hike to the pond nearby to see and take photos of local wintering birds.

Then we'll get into our cars and drive a short distance to Staten Island Road, where the cranes forage during the day (we'll provide maps). We should have many good opportunities to observe and take photos of the cranes -- and other birds -- at this location.

As dusk approaches, we'll get back into our cars and drive a short distance to Woodbridge Road. Several shallow ponds lie on the side of the road, and the cranes return from the fields to roost in the ponds after dusk. We'll take more photos as light permits and then wrap things up.

Please bring your own food, cameras, and bird guides, if you have them. We'll have some to share if you do not. No experience is necessary, and if you just want to watch the birds and forego taking pictures, that's fine, too. For more information about the Cosumnes River Preserve, visit its website at www.cosumnes.org.

Please REGISTER for this free event, so we know how many people to expect.
Photo Credit: Dick Walker