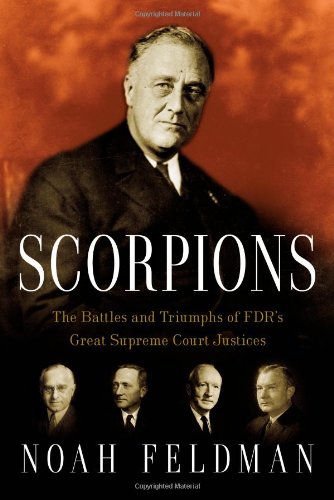 Book Club: November 11th
Book Club to discuss Scorpions: The Battles and Triumphs of FDR's Great Supreme Court Justices
For September's book club discussion, the host has selected Scorpions: The Battle and Triumphsof FDR's Great Supreme Court Justices, by Harvard professor Noah Feldman.
A tiny, ebullient Jew who started as America's leading liberal and ended as its most famous judicial conservative. A Klansman who became an absolutist advocate of free speech and civil rights. A backcountry lawyer who started off trying cases about cows and went on to conduct the most important international trial ever. A self-invented, tall-tale Westerner who narrowly missed the presidency but expanded individual freedom beyond what anyone before had dreamed.

Four more different men could hardly be imagined. Yet they had certain things in common. Each was a self-made man who came from humble beginnings on the edge of poverty. Each had driving ambition and a will to succeed. Each was, in his own way, a genius.

They began as close allies and friends of FDR, but the quest to shape a new Constitution led them to competition and sometimes outright warfare. Scorpians tells the story of these four great justices: their relationship with Roosevelt, with each other, and with the turbulent world of the Great Depression, World War II, and the Cold War. It also serves as a history of the modern Constitution itself.
The Zoom meeting is scheduled for Wednesday, November 11th, at 4:30 pm, and participants are welcome to enjoy a beverage, alcoholic or not, during the meeting!
The meeting log in details will be sent a day before the event. Please RSVP to Marilyn Edling at marilynedling@gmail.com.