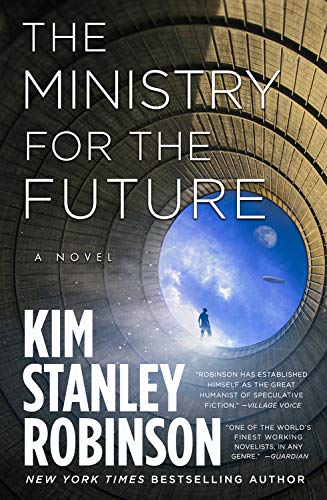 Book Club: January 13th
Book Club to discuss The Ministry for the Future by Kim Stanley Robinson
For January's book club discussion, the host has selected The Ministry for the future, by the New York Times bestselling author Kim Stanley Robinson.
Established in 2025, the purpose of the new organization was simple: To advocate for the world's future generations and to protect all living creatures, present and future. It soon became known as the Ministry for the Future, and this is its story.
From legendary science fiction author Kim Stanley Robinson comes a vision of climate change unlike any ever imagined.

Told entirely through fictional eye-witness accounts, The Ministry For The Future is a masterpiece of the imagination, the story of how climate change will affect us all over the decades to come.

Its setting is not a desolate, post-apocalyptic world, but a future that is almost upon us - and in which we might just overcome the extraordinary challenges we face.

It is a novel both immediate and impactful, desperate and hopeful in equal measure, and it is one of the most powerful and original books on climate change ever written.
The Zoom meeting is scheduled for Wednesday, January 13th, at 4:30 pm, and participants are welcome to enjoy a beverage, alcoholic or not, during the meeting!
The meeting login details will be sent a day before the event. Please RSVP to Bill Myers at wemyers9@gmail.com.