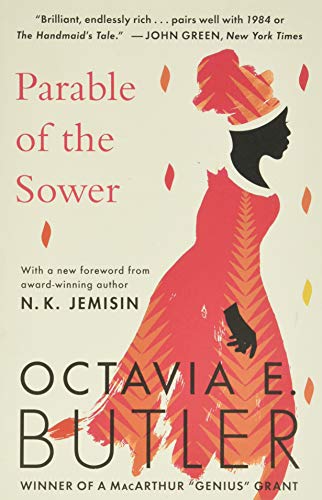 Book Club: September 8th
Book Club to discuss Parable of the Sower by Octavia E. Butler
The book for September is Parable of the Sower by Octavia E. Butler, published in 1993.

When global climate change and economic crises lead to social chaos in the early 2020s, California becomes full of dangers, from pervasive water shortage to masses of vagabonds who will do anything to live to see another day. Fifteen-year-old Lauren Olamina lives inside a gated compound with her preacher father, family, and neighbors, sheltered from the surrounding anarchy. In a society where any vulnerability is a risk, she suffers from hyperempathy, a debilitating sensitivity to others' emotions.

When fire destroys their compound, Lauren's family is killed and she is forced out into a world that is fraught with danger. With a handful of other refugees, Lauren must make her way north to safety, along the way conceiving a revolutionary idea that may mean salvation for all mankind.
The Zoom meeting is scheduled for Wednesday, September 8th, at 4:30 pm, and participants are welcome to enjoy a beverage, alcoholic or not, during the meeting! Sandy Maliga will be hosting the meeting. The meeting login details will be sent a day before the event. Please RSVP to Sadia Niazi at sadiafniazi@hotmail.com.