Virtual Harvard Alumni Allyship Series: World AIDS Day
The Harvard AIDS Initiative and The Botswana Harvard AIDS Partnership
Wednesday, December 1st @9am PST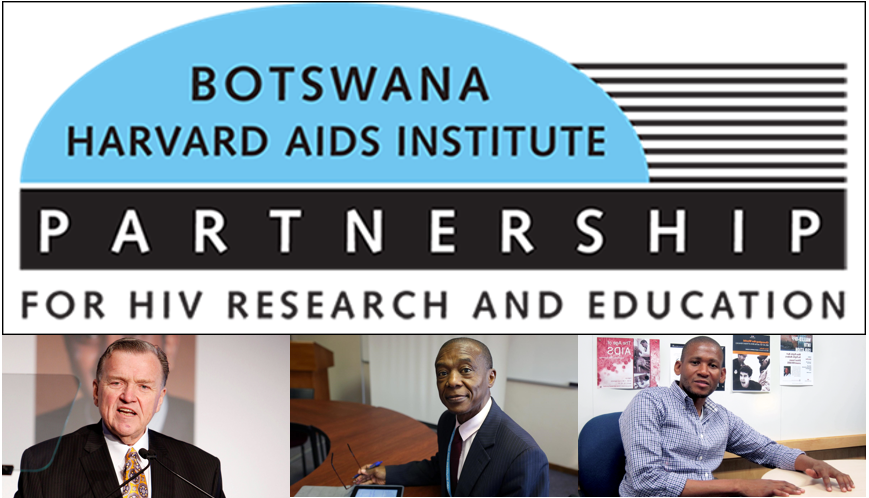 Image (left to right): David Mixner, Dr. Joseph Makhema and Dr. Mosepele Mosepele
The Harvard Clubs of Boston and Ireland in partnership with Harvard Clubs and shared interest groups (SIGs) from around the globe are honored and delighted to bring the next installment of our Harvard Alumni Allyship Series.
Following our successful events focusing on Anti-Racism Allyship (October) and Allyship with the LGBTQIA+ community (November), Allyship with Indigenous Peoples (February), Allyship with Asian Americans (May), Allyship with Peoples with Disabilities (June) this month will be a conversation centered around World AIDS Day.
This Allyship event provides us with an opportunity to remember and honor the lives of all those that have been lost to this disease. It is also a remarkable story of partnership between Harvard and Botswana and also it is a story of the impact Harvard has had on that country's efforts to fight HIV/AIDS. This is a story about which our entire global alumni community should know and feel justifiably proud.

Our event will feature three speakers:

David Mixner
David Mixner will talk to us about the emergence of HIV/AIDS in the 1980's. His is a unique and personal perspective. He is often described as a political activist and author. In fact he is way more than that. It is safe to say that David has been at the forefront of political activism around rights for the LGBTQ+ community for his entire life https://en.wikipedia.org/wiki/David_Mixner
He has been recognized for his work at a national and international level and most recently his advocacy was recognized when he was inducted into the New Jersey Hall of Fame – the highest civilian honor that state can award one of its citizens https://njhalloffame.org/2021/07/new-jersey-hall-of-fame-announces-its-incoming-2021-class-of-inductees/

Dr. Joseph Makhema and Dr. Mosepele Mosepele
In 1996 the Harvard AIDS Initiative partnered with Botswana's Ministry of Health to form the Botswana Harvard AIDS Institute Partnership (BHP). Twenty years ago, at a ceremony on World AIDS Day the BHP officially opened its state of the art laboratory and headquarters on the grounds of Princess Marina Hospital in Gaborone, the capital of Botswana.
Joe and Mosepele will talk to us about the impact of the BHP in Botswana and will also offer some perspectives on the future.

For a historical perspective on AIDS at Harvard please read the following Crimson article by Kevin Jennings (a previous Allyship speaker) https://www.thecrimson.com/article/2019/2/21/aids-crisis-at-harvard/
One complimentary pass per person. Valid on December 1, 2021 only. Registration will close approximately 3 hours prior to the event to allow for the login credentials to be shared. This invitation is non-transferable.
RSVP for this event today!
The link to the event will be sent on the day of the event to all registrants.
Biographies: David Mixner, Dr. Joseph Makhema and Dr. Mosepele Mosepele
David Mixner whom Newsweek once named the most powerful gay man in America, has been a highly regarded leader in American politics and international human rights for over 40 years and is a best-selling author of Stranger Among Friends, At Home with Myself, and Brave Journeys (co-written with Dennis Bailey). A sought after keynote speaker around the globe, Mixner has lectured at Oxford, Harvard, Stanford, Princeton, and the London School of Economics. In his riveting talks, Mixner shares an insider's look at the triumphs and failures of American politics and offers candid insights on a wide range of topics from human rights activism, to the evolution of gay rights, to the crusade to prevent and fight HIV/AIDS. A gifted raconteur, he shares his wisdom and stories with, as Tony Award-winner Alan Cumming says, "a mesmerizing blend of wit, dignity and homespun charm makes you feel you are curled up on the porch next to him."
Mixner has been an unofficial advisor to elected officials and business leaders on domestic and foreign policy for decades. Today, as a prominent international public affairs/strategic-planning consultant with expertise in HIV/AIDS, he is working on access, prevention and treatment projects in Russia, Ukraine and a number of African nations. In addition, he continues his work fighting HIV/AIDS here in the United States.
Recently, Yale University's Larry Kramer Initiative for Lesbian and Gay Studies created the David B. Mixner Collection, a catalogue of Mixner's papers and correspondence from his work as a leading antiwar advocate during the Vietnam War to his participation in present day political campaigns.
Dr. Joseph Makhema is Chief Executive Officer of the Botswana Harvard AIDS Institute Partnership (BHP), where he oversees all clinical research and training projects. He joined BHP as Senior Clinical Research Manager and Co-Director in 2003. He became BHP Project Director in 2006. A specialist physician by training, he also participates in the clinical conduct of research trials, capacity building, and training initiatives at the BHP.
Dr. Mosepele Mosepele is committed to work on HIV prevention, treatment and associated co-morbidities. Specifically, he is interested in work that explores the role of stigma in HIV uptake testing, especially HIV testing among men in resource limited settings. Among those persons living with HIV (PLWH), he is committed to research on ensuring that these persons can attain viral suppression all the time, and also how we can minimize the effect of non-infectious complications (cardio-metabolic, inflammation) in impairing organ dysfunction, and/or accelerating the aging process among PLWH.